---
Matteo
Detailed language tuition profile
Age: 28
Native language:Italian
Locatio: Florence
Time zone: Italy
Price: from € 17 to € 24 depending on the number of lessons
Rating: 100% positive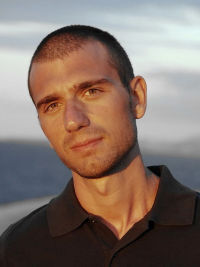 About meHello everybody. My name's Matteo and I'm 28 years old. I live in Florence although in the past I've been living, working and studying also in London and Madrid, two cities where not only could I improve my English and Spanish, but also realize the richness of diversity.
I'm a curious guy, always willing to increase my knowledge by reading, traveling, watching movies, going to exhibitions and meeting new people.
As far as my job is concerned, I'm reliable, professional and punctual: a person you can trust. I assure you that learning Italian with me will be a very entertaining experience too.
Qualifications & ExperienceI have a degree in translation and interpretation, obtained at the University of Bologna in 2005. In the last few years, I've been working as a free lance interpreter/translator and teaching English and Spanish to Italians and Italian to foreigners. I've gained valuable experience delivering one-to-one and small groups courses, for students of every age and level, from beginners to intermediate and more advanced students.
I use different kind of materials and I can tailor lessons according to the students needs.
Teaching ApproachMy teaching approach is based on communicative didactics, that's to say that communication comes first. Grammar is the essential base on which to build your language skills but the main aim is to communicate, to express yourself in good Italian in order to be understood and understand what people say or write.
Moreover, I believe that learning a language means also getting to know the culture of the country of which is expression. That's why I'll provide you with information about Italy and its reality, past and present.
Starting from ILUSS materials and documents, I'll tailor a useful and entertaining course to make your learning as complete as possible.